Monday, July 31, 2006
flowers in the yard - July
July in NZ is the equivalent of US January. It's pretty cold at night and we have the woodstove cranking, but some days it's surprisingly warm, and because it never freezes in Otaki Beach, the flowers bloom all year. Once again, here are a few of the flowers right now in our yard. If I had thought to take my camera with me to the beach I would have gotten some shots of the little flowers on the dunes.
These geraniums are 4 feet tall!

Posted by Jessica at 3:28 PM

Sunday, July 30, 2006
bike, puha, calf
After a tad of hyperventilating over spending a little money we didn't need to, I got a bike the day before yesterday. I haven't ridden regularly since I was a kid, so bikes had changed a lot. Got some advice from my aunt and uncle (thanks T & L!!). Went with a Raleigh comfort bike - although 'comfort' is a relative term when you haven't been on a bike in forever. My butt was killing me after the first day, mainly because I had it adjusted wrong and was sitting wrong and tried out some other good ways to be wrong. But doing better now. I ride up and down the long, flat road that runs parallel to the beach, and you can see out over the ocean and Kapiti island as you ride.
While I was taking the dog out this morning our Maori neighbor popped his head over the fence and asked if he could come pick our puha. I think I said, "Huh?" Puha is the native name for a thistle that grows around here, and it's a traditional Maori delicacy. They cook some meat and then boil down the thistle greens with a bit of meat or a hambone... much like kale or collards cooked back in Virginia. He managed to fill a plastic grocery bag in about two minutes. I may give it a try (sans meat of course) since there's still some left in the yard, although his wife tells me it's a little bitter, and her husband's the only one in the family who eats it.
D drove by his second birth of a calf since we got here on his way in to work today. Last time he just caught the tail end (pun intended), but today he looked over and saw legs coming out.
Posted by Jessica at 2:38 PM

Monday, July 24, 2006
Staglands Wildlife Reserve (pics)
D navigated through Akatarawa Rd. - a narrow throughway between Kapiti and Upper Hutt which is almost as winding as the previously blogged Otaki Gorge Rd,. We went to Staglands today on our day off together. Lots of birds and one stag (with a bevvy of does). Some very large pigs with tusks, tame rabbits, and a slew of insistent peacocks, ducks, gease, doves, a variety of parrots, goats, sheep and donkeys. A gorgeous walking path with walkthrough aviaries and a log cabin cafe. It was a warm and sunny day for the winter and a very nice trip. Many of my pics didn't turn out, and most of D's didn't -- but only because he was trying to photograph me, and I am just not photogenic. I blink or choke on something or... well it's bad. Here are some good shots though:
View from Akatarawa Rd.
Black Swan
D feeding rabbits, doves, peacocks
Kea - wild parrots, very smart.
Read more...
One of the stables
D's very nice shot of a ram.
He later ate my sleeve and head butted me (the ram, not D).
Posted by Jessica at 6:05 PM

Thursday, July 20, 2006
more & more homes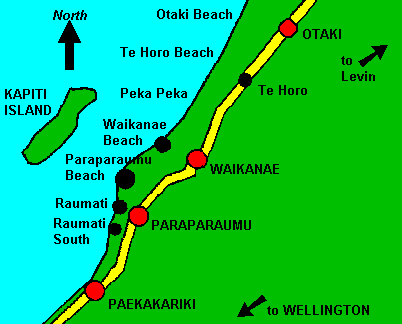 Saw three homes yesterday and three homes today. Starting to wear us down a bit. All the homes we like and can afford are mostly in the area on the map. And one we saw a second time today we really like. We are headed to the Kapiti council to check on the file before possibly making an offer. This time it will be conditional, and we won't need to do a builder's report etc... unless our offer is accepted, and we are able to buy. I won't bore you with the pic unless we get it. The view is gorgeous, and we're thinking the day pass on the train for whenever we want to go into the city, saves us the whopping $1.76 per litre (yes litre, not gallon!) in gas prices. This country is not a cheap place to live, but most everyone we've met seems to get by. We had a nasty surprise on our electric bill after running the space heaters too much and are now making full use of the wood stove.
D saw the season finale of Lost last night (just aired here on NZ tv) and is anxious to hear what some of his co-workers from Borders think, so if you're out there, I'm sure he'd like to hear from you. He says he was going to post tonight, but after work and house hunting in the rain he is taking a little well deserved rest with the Playstation.
Sorry for all the heat you're having back in Virginia. It's 50 in the day/40 - 45 at night here lately in the dead of NZ winter.
Posted by Jessica at 7:19 PM

Friday, July 14, 2006
no house
The other buyer went unconditional so no house for us yet... the search continues...
...
Posted by Jessica at 7:12 PM

Wednesday, July 12, 2006
house offer
We put an offer on this tan and white beach house last night. Sort of a crazy process here, although not much paperwork. I had called the agent about seeing it, and unlike most, he said, Why don't you just wait and come to the open house on Sunday. D was late getting off work, but we arrived with a few minutes to spare only to find the agent had left. He comes back to show it to us, but he only has 5 minutes tops before he has to leave for an appointment, so we race through and like it, and he says Well I'm leaving to take an offer from another buyer, so if you want this house you'll have to put an offer on it right now. - We need more time. - Ok he says, but then he calls our cell to say he can't hold the other offer until morning, so we would have to turn around and make an offer right then. I can't move that fast on the largest purchase we make in our life, so we let it go.
The next day he takes us through with time to actually breathe and we really feel good about it. Plus it's cheaper than anything else we've liked. So he says now we would have to make an unconditional offer - no strings attached - and hope the other guy, who's offer has conditions, doesn't go unconditional within the three days he has to do so. Again, I balk (actually I kind of bawked; it sounded like a feral chicken) and said I was not making an unconditional offer without a builders report and title search. So we found an inspector who would come the next morning and a title search comapny that would email me within a few hours. All was well with the house so yesterday we made an offer, and they accepted, and now we wait to see if it will go forward.
The guy who offered first has to finish his house sale or get a bridge loan and go unconditional by Friday to buy the house. I feel bad putting him in that position. If we could have looked at the house for twenty minutes instead of sprinting through on Sun, then we would have made a conditional offer at the same time. Anyway, now we wait and see. If we don't get it we are only out a suprisingly low amount for the builder's report, and we'll find another nice home. But hopefully this will go through. More pics to come if we actually get to buy it.
Posted by Jessica at 6:52 AM

Sunday, July 09, 2006
even the restrooms are lovely
This public bathroom in Kawakawa (far north of here in the Bay of Islands) attracts so many tourists with camera's, that locals complain they can't get any privacy. Now the council is going to build another regular public toilet nearby so that shy residents can use the less photographed restroom.
The weather is finally gorgeous again so tomorrow we may get out and explore, camera in hand, while we are both off from work. And Darryl keeps saying, "I need to sit down and post..." so hopefully soon there'll be something more scintillating at the top of the page than a lovely lavatory, especially since my Latham relatives who recently tuned in deserve better!
By the way -- last month marked one year since I quit seafood... the last meat I was still eating... so I have been completely vegetarian for one full swing of the earth around the sun! Ok, well I was excited.
Posted by Jessica at 12:02 PM